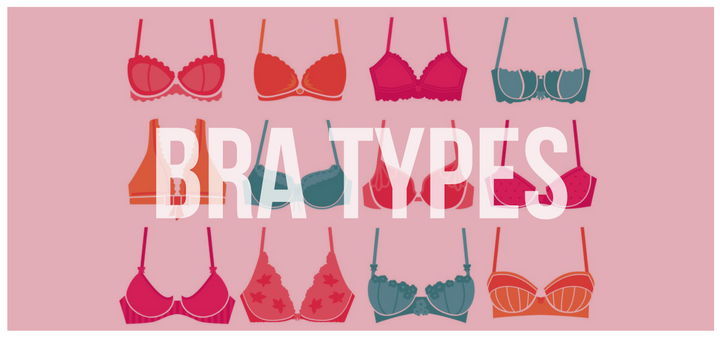 Bra, though a very small piece of apparel, is very important and essential part of the women's clothing. The function of bra is not only to provide coverage and support to the breasts but also to enhance the appearance of the breasts and overall shape of the woman. Since its development in 19th century, various bra types have been invented and designed till date.
The shape, coverage, functionality, fit, fashion, fabric and color of the bra vary widely across the designs and styles. There are various types of bra designed for various types of outer clothing. Some bras are designed to provide more support and coverage while some are designed to be sexual and sensual. Since there are no any standards regarding the bra designs, it keeps changing constantly.
We have made the list of bra types for you so that you know which bra type to choose according to your need. Also it is very important to know the bra types in order to make the right choice and maintain the breasts health.
Below are the bra types in an alphabetical order:
1. Adhesive/Stick-on Bra
This bra does not have any sorts of straps or bands; it sticks to the breasts, hence called adhesive bra or the stick-on bra. These bras provide little support to your breasts.
The adhesive bras are intended for backless and tube dresses. There are two types in terms of materials they are made up of. A disposable paper ones with strong adhesive and reusable silicone one, which can be washed and reused.
They are best suited for smaller breasts. If you are wearing backless dress then this adhesive bra is the best choice. This will give some lift to your breasts and bring them together.
You can also find the fabric ones, which looks more like a normal strapless bra that has no back. They generally have side wings and adhesive on them to hold them on.
You can find adhesive bras in most lingerie stores along with the bra accessories. Also you can find them in online stores (general/lingerie).
Best for: Small and self-supported breasts
Outfit: Backless and strapless dresses
Not to forget
Should not be applied if skin is broken, damaged or sunburned.
If you have sensitive skin, then first, test using a small piece on yourself (the inside of the arm).
Do not use any moisturizers or powder on the area before applying it.
If you are sweating a lot, adhesive won't work and might come off.
Clean and dry your skin before sticking the bra.
If you are having trouble getting it off, take a hot shower or soak in a bath.
To remove the sticky residue on your skin, use baby oil.
2. Balconette Bra
A balconette bra is type of demi bra but not the same. Even the manufacturers name both as the same. The balconette bra is sexier version of a full-coverage bra whose cup is cut so more top half of the breast is shown.
The name means 'little balcony' referring to the shape that the bra is not visible from above, as when looking down from the balcony. It was first designed in United States in 1938 and came into mainstream fashion in 1950s.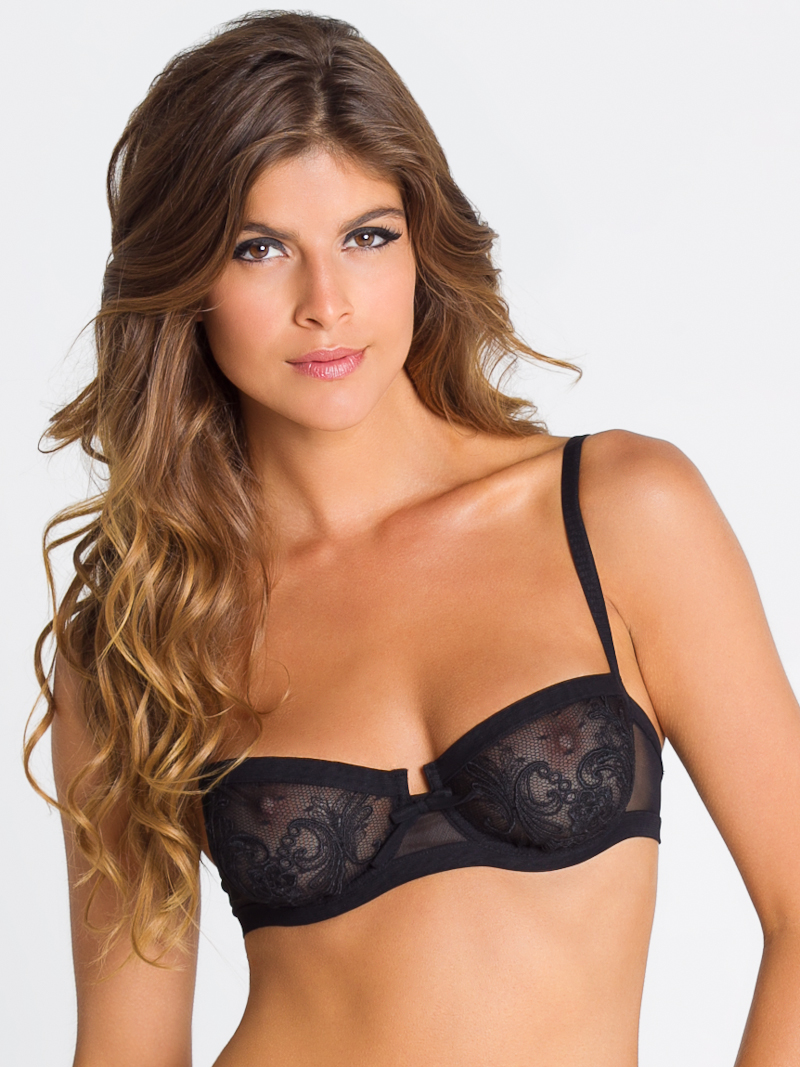 The cups are low and create a perfect square with the straps, hence, preferred for low cut dresses. Generally, this has somewhat horizontal line along the cups and that makes it different from the plunge bra, which is also preferred with low cut dresses but goes very low between the breasts.
The balconette is termed differently by different people. Some even use it to describe shelf bra (cupless bra). The balconette bras have quite low cut cups, underwires and quite widely set straps.
This type of bra lifts the breasts, which enhances their appearance, shape and cleavage.
Best for: Small or larger breasts
Outfit: Low cut dresses
3. Bandeau Bra
A bandeau bra is a simple piece of clothing worn as band across the breasts. It is like a strip over the breasts. It is kind of the mix of strapless bra and tube top.
Usually bandeau bras are made of stretchy fabric. Normally, they don't have fastening in the back instead you put them on over your head. They also come with detachable straps like many strapless bra, so you can wear with or without straps.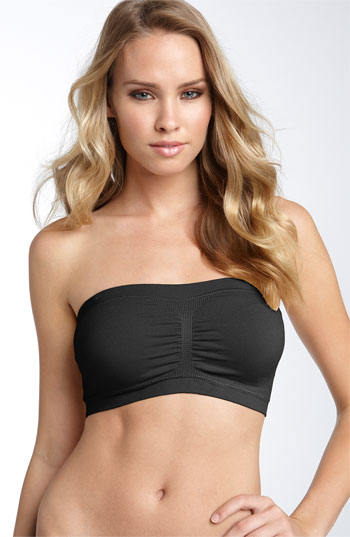 This provides little or no shaping and is very less supportive. Hence, it only works well for smaller breasts. These bandeau bras are great for those who have just started to wear bra. Sometimes, they have built-in cups, which is suitable for the small breasts.
If you are wearing tube dress and have bigger breasts and need more supportive bra then you can wear classic style strapless bra instead of bandeau bra.
A classic bandeau bra is just a strip of stretchy fabric but these days you can find bandeau bras with underwire and paddings that will give more lift. They often come in sensational colors and prints and they are real comfortable for smaller breasts.
Best for: Smaller breasts and girls who have just hit puberty
Outfit: Nightwear, At home, Tube dress
4. Belly Dance Bra
Belly Dance Bra is designed to give better coverage and support to the belly dancers. Most people think that this bra is same as the normal bra but it is not.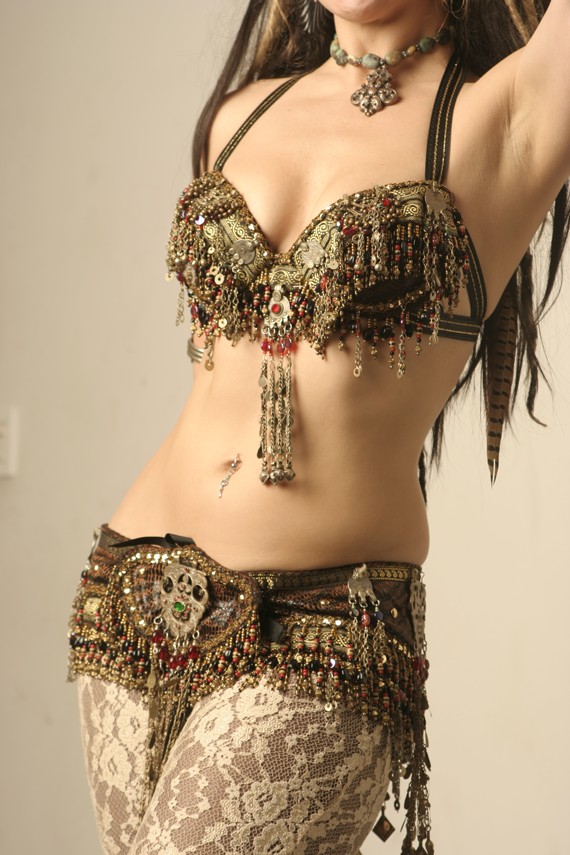 If you want to buy one, choose one size smaller than yours. These are larger than normal bras and designed to cover very well.
Best for: Larger breasts and belly dancers
Outfit: Belly dance costumes
5. Bralette
A bralette is a lightweight, simple and usually unlined, soft cup pullover style bra. It is one-piece without clasps and unstructured style, which can be put on over the head. The breasts are fully covered but the bra provides very less or no support at all.
It is suitable for small busts. Girls who had just started wearing bra as training bra mostly use it.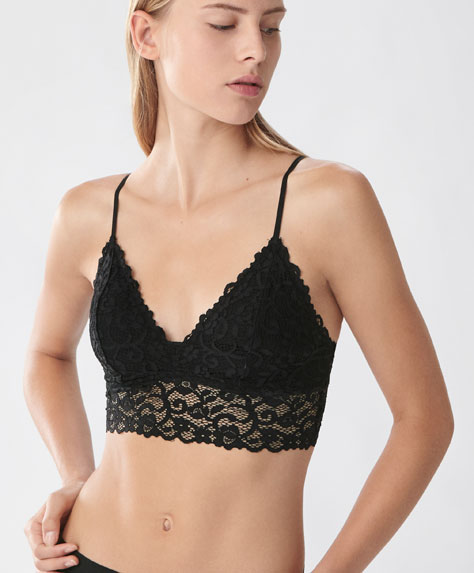 Many bralettes are made of supportive stretch lace material with adjustable straps and bands and come in longline styles that extend further down the torso. They are comfortable enough to be worn as sexy lingerie or a layering inside of a professional jacket. And for those with fuller busts, there are even some bralette styles made with underwire, says Dale.
Best for: Smaller busts
6. Bridal Bra/Corset
A bridal bra/corset is designed to shape the upper body so that the bride fit into the wedding dress. This is used to decrease the volume and give shape to the overall upper part of women.
It promotes good posture and can be more comfortable as the whole corset rather than the shoulder straps carries the weight of the breasts.
Corset is used to slim the body and make it more fashionable silhouette. It reduces the waist and thereby exaggerating the bust and hips.
Corsets are typically made of flexible material like cloth or leather stiffened with boning or ribs that are inserted into channels in the cloth or leather. Nowadays most commonly used material is plastic for lightweight, faux corsets and poor quality corsets. Where spiral steels are preferred for quality corsets. Lacing, usually tied at the back, holds them together.
Outfit: Wedding dresses, Fitting dresses
7. Built-in Bra
Built-in bras are the supportive bra cups that are stitched inside the tank top or dress. It is supportive brassiers-like structures on the inside of another garment providing support for the bust. You do not need to wear separate bra with this.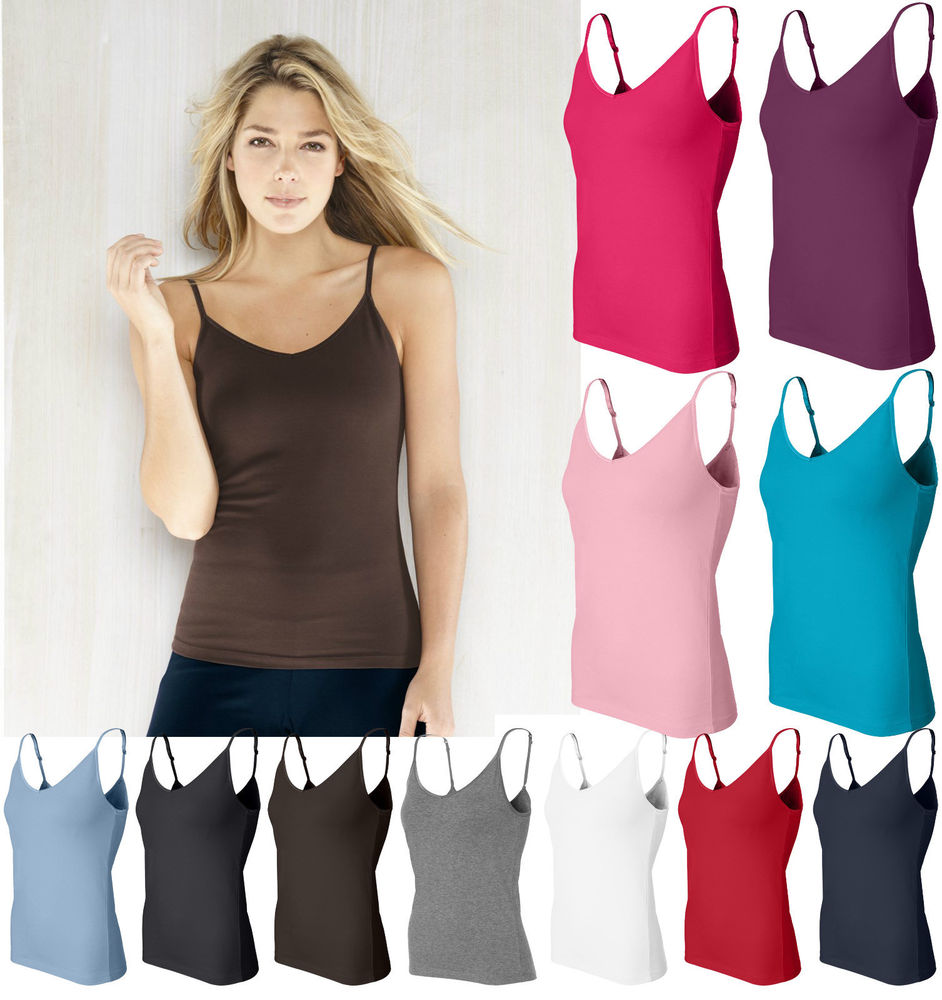 Some of the built-in bras are detachable. They consist of a horizontal elastic strip like a bandeau, which provides brassiere-like breast support. Some have cups and underwire as other bra types.
Best for: Women who despise wearing bras
Outfit: Tank tops, Huge dresses, Comfortable wear
8. Contour/Molded Cup Bra
Contour bra also known as molded cup bra is the bra shaped by the machine to fit the shape of your breasts. This bra has seamless, pre-formed cups containing foam and another lining, which helps define and hold the cup's shape, even when it is not worn. Since the cups are seamless, they are perfect choice to wear with anything where seams show through. The layer of foam also covers the outline of the nipple making this bra popular for the same reason.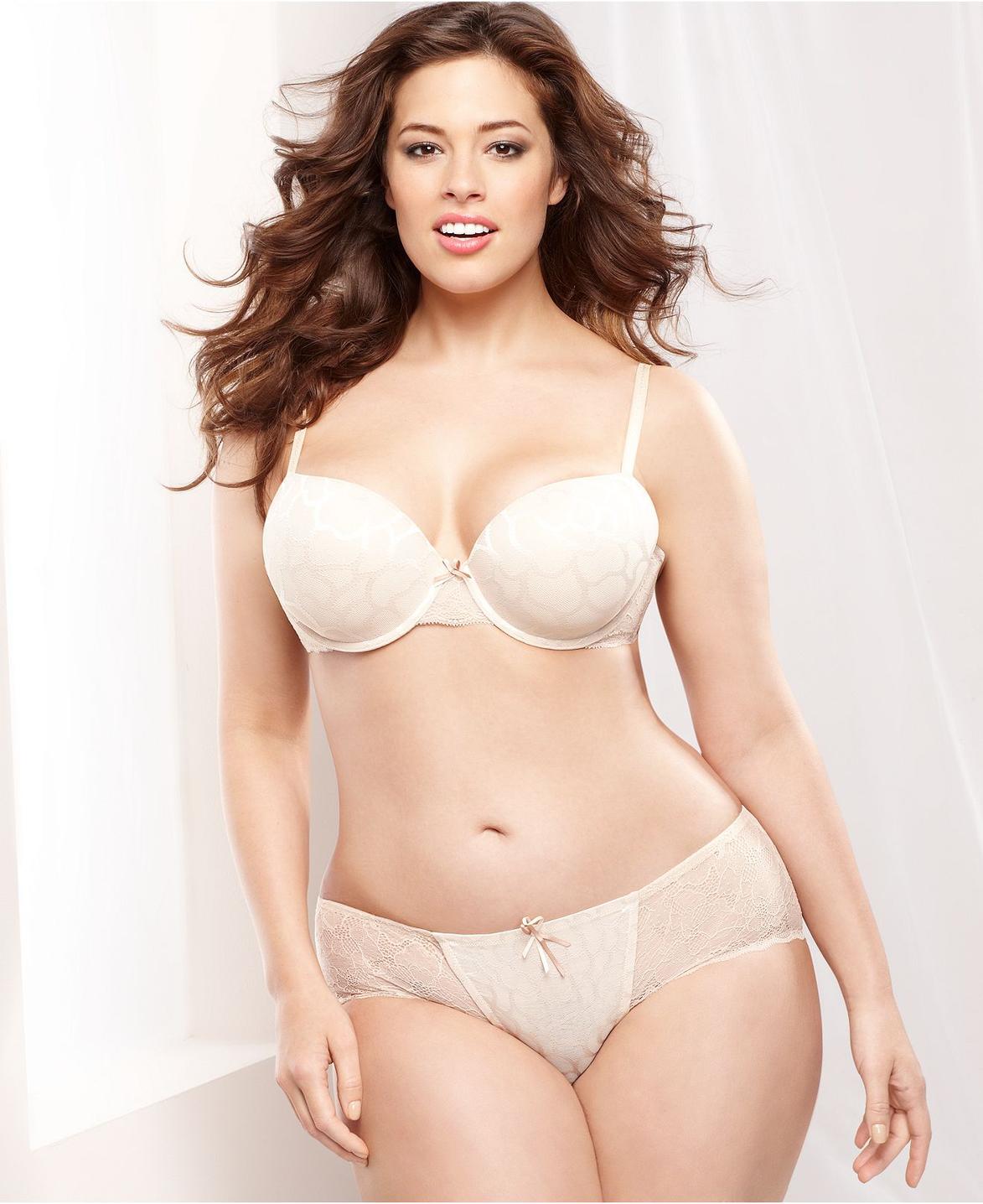 Contour bra are available as full-cup, demi-cup, push up, plunge and strapless. Most common type of contour bra is t-shirt bras and push-up bras.
Contour bra is best for the asymmetrical breasts (which is natural and some show extreme asymmetry). Since the cups are molded in a shape, this bra helps to maintain the symmetrical figure.
Best for: asymmetrical breasts
Outfit: Knitted or clingy clothing
9. Convertible/Multiway Bra
Convertible bra has the straps that can be detached and rearranged in different ways depending on the clothing. They are the must have bras. The straps come off and they have hooks, hence you can reattach them in the ways you want.
The alternative strap arrangements are traditional over-the-shoulder, criss-cross, halter, strapless and one-shoulder. This is why it is also called as multiway bra.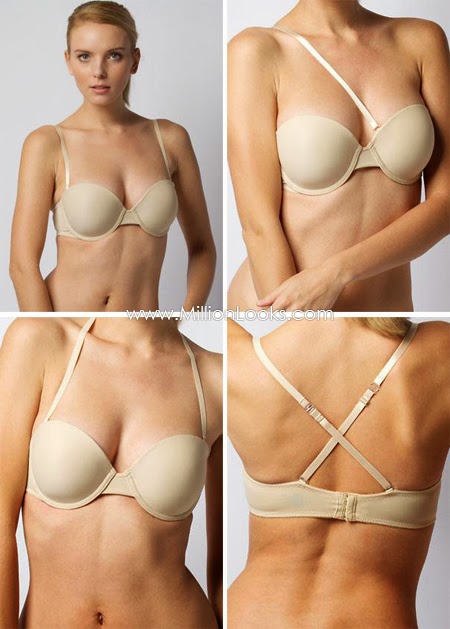 Instead of the regular straps, you can also use beaded straps and clear plastic straps, which will give you style and support. Convertible bra gives you the versatility. You can choose to take out the straps and go strapless but remember convertible bra is not made same way as the true strapless bra.
Before buying the convertible bra check the strap configurations. The straps have the hook and there will be slots to hook into on the bra. Check the possible options before buying the bra.
Best for: All-purpose
Outfit: Any outfit
10. Demi Bra
Demi bra is sometimes called as half-bra because of the shape of the cups. It has the partial cup that covers half to three-quarters of the breasts and creates cleavage and uplift. Most of the demi bras are designed in a way that breasts are pushed towards the center displaying more cleavage.
The straps are widely set, usually, attach at the outer edge of the cup. The lingerie industry defines the demi-cup bra as covering 1 inch above the nipple. The underwire is usually shorter, forming a shallower 'U' shape under the cup. They are often seamed or boned.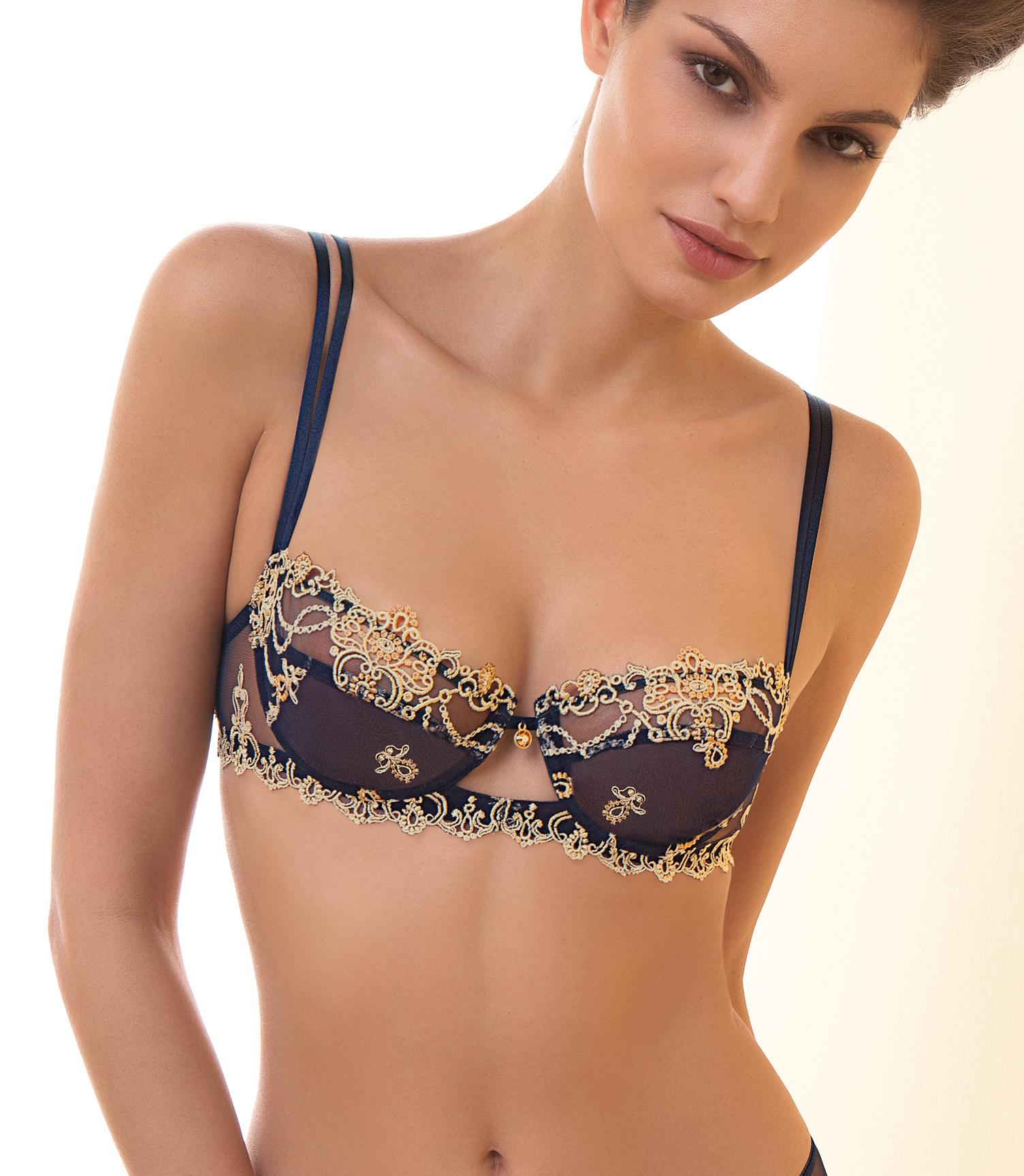 The demi bra goes lower than the balconette and plunges lower to show the cleavage. This bra is great to be worn with outfit with low cut, scoop neck or wide necklines. Those who have shallower breast tissue can wear demi bra as it lifts the breasts up.
Best for: Shallower breasts
Outfit: Low cut, scoop neck outfit
11. Front Closure Bra
With its name, it is clear that this bra has the closure at the front rather than at the back like traditional bras. It has single and non-adjustable clasp in the center gore between the breasts.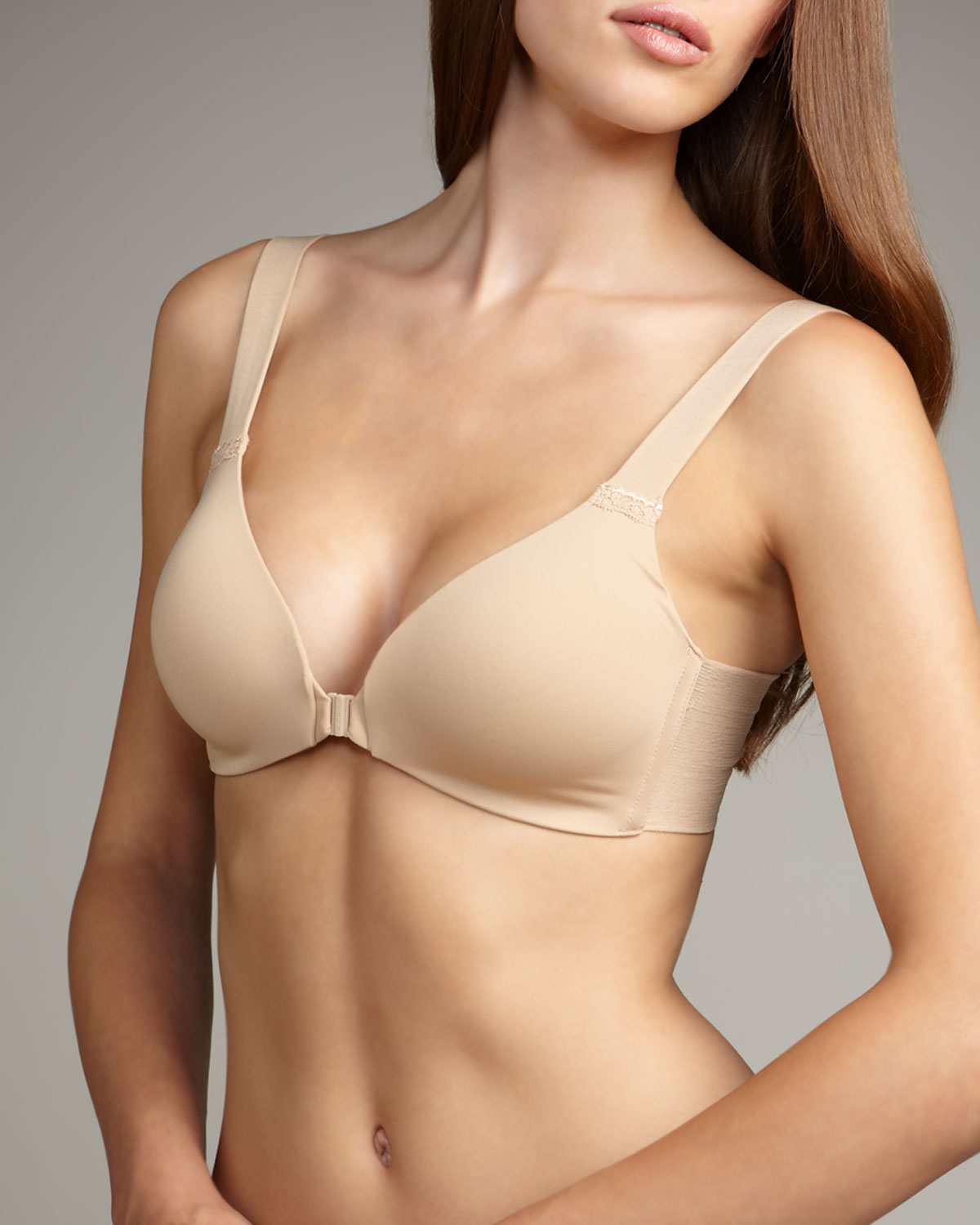 These bras provide seamless back. Some of them have racerback style, which is great for tank tops and prevents the slipping straps. They also provide better support.
Best for: Heavy breasts
Outfit: Fitting dresses
12. Full Support Bra
It is also called as full-figure or plus size bra. It is designed to provide maximum coverage and support for the larger breasts. The straps are also wider so it offers more support and comfort.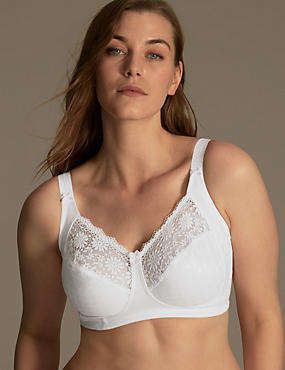 This type of bra is practical for everyday wear.
Best for: Larger breasts
Outfit: Casual
13. Halter Neck Bra
It is a style that a piece of garment runs from front around the back of the neck, leaving most of the back uncovered. This bra is meant for the halter-tops and dresses to avoid the back straps of a typical bra.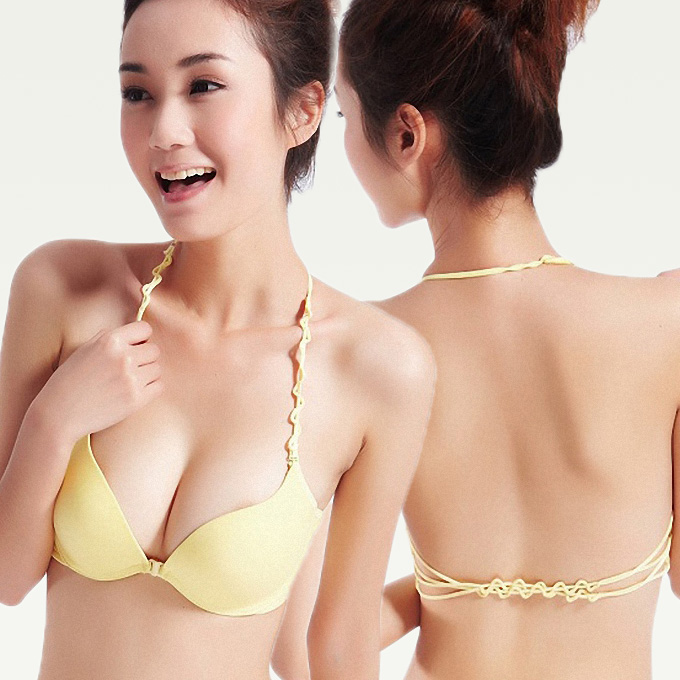 This design resembles the bikini tops and meant for sports wear like gym and swim and suits. It provides good support.
Best for: Small breasts
Outfit: Gym wear, Low back dresses or tops
14. Mastectomy Bra
The mastectomy bra is specially designed for those who have undergone mastectomy. It is designed in such a way that breast prosthesis may be held on place for those who have lost one or both breast after mastectomy.
They have the full cup, which have pocket inside the cups to insert the breasts forms (prosthesis). This bra is worn during the recovery process after the surgery.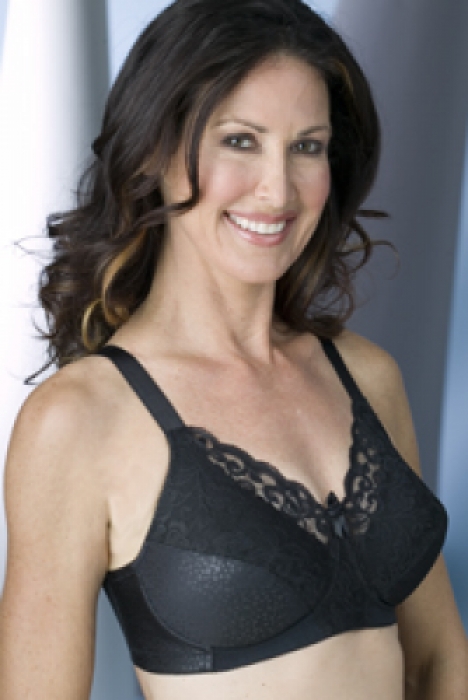 Mastectomy bras are available in various online stores but consulting with the expert before getting one is always recommended. Some lingerie stores even provide the service of sewing the pockets into the cups of the regular bras. When buying online, review the return policy of the store before making the decision to buy.
15. Maternity Bra
Many get confused with the maternity bra and nursing bra. Maternity bra is for while the woman is pregnant. It has features that a pregnant woman will need for comfort and support during her pregnancy period.
The maternity bra is designed as such that it can be expanded to adjust the breasts increment in size during the pregnancy. The size of the bra can be adjusted from the straps when needed.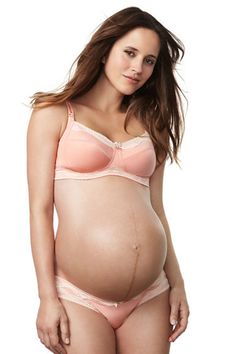 It provides the support and comfort to the tender breasts during the pregnancy.
Checkpoints:
Flexible/stretchy cups that will allow the breasts to grow and change shape
Soft cups
Wide padded shoulder straps to provide comfort
Breathable fabric like cotton
Best for: Pregnant women
16. Minimizer Bra
Minimizer bra is designed to minimize the larger busts. It compresses and reshapes the breasts creating the impression of the smaller bust. They are quite comfortable.
A minimizer bra style spreads breast tissue across the chest rather than bringing it all to the front with centered projection. Many minimizer bras have other features, like wider wings to reduce the appearance of back rolls, says Dale.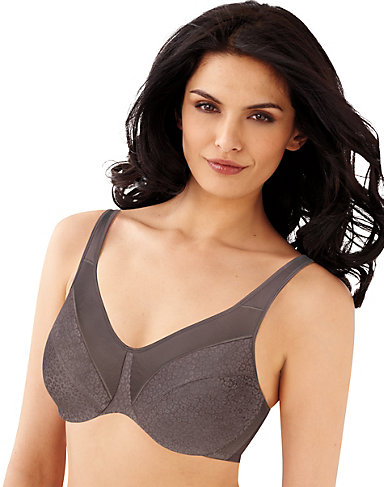 Women with average or large breasts choose minimizer bra of they want their breasts to appear smaller. The minimizer bra can reduce your bust by an inch or two depending on your size.
The cups give the full coverage and made of elasticated fabric which helps compress the breasts and give better appearance. They have underwires, wider and comfortable straps for support.
Best for: larger breasts
17. Novelty Bra
Novelty bra is fashion bra designed for sensuality and show-offs. They come in various unusual designs and made of unusual materials like leather, feathers or coconuts.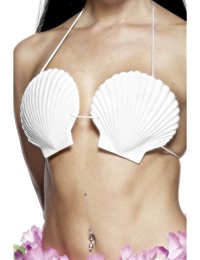 The designs are unusual like open-tip, peekaboo or peephole bra that has holes and slits which reveals the areolas and nipples. They are made of sensuous materials like lycra, nylon, polyester, satin, lace or silk. They are suitable for the erotic situations.
Women prefer wear these kinds of bras just like that rather than underneath other outfits.
Best for: Sensual wear
Outfit: Beachwear
18. Nursing Bra
Like the maternity bra, nursing bra is a practical bra designed with fuller cups, comfortable fabrics and wider shoulder straps providing extra comfort. These are specially designed for the mothers who are in nursing phase and to support the increased breast size during lactation.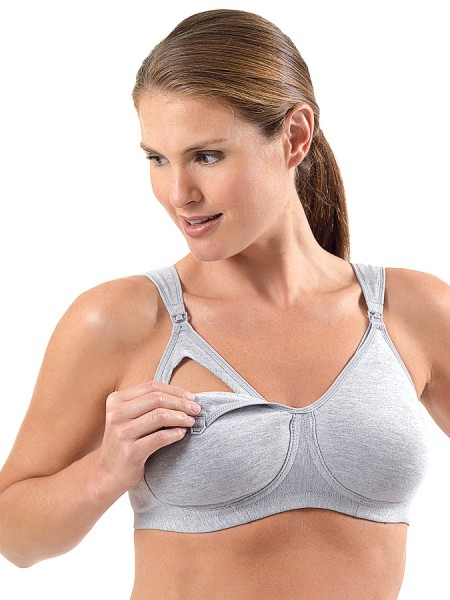 The cups of the nursing bra are covered with the flaps of fabric, which can be unclasped at the top and pulled down to expose the breast. This allows baby easy access to the nipple and make the breastfeeding easier.
Underwire is not recommended in nursing bra as it restricts the flow of milk and can cause mastitis.
Checkpoints:
Get nursing bra before a month you are due.
Stretchy fabric is best.
Bra should not be tight and compressing your breasts.
Make sure clips are easy to do and undo
Use breasts pads to stop milk leaking onto your clothes.
Best for: Nursing mothers
19. Padded Bra
Padded bra is designed to enhance the bust size and cleavage. It has the extra padding in the cups inside the lining that provides volume and fuller shape to smaller breasts.
The lining of the cups is thickened and enhanced with shape enhancing inserts or foam padding. This is an alternative for bra stuffing, a practice among teenage girls in which 'falsies' like tissues and cotton balls are placed inside bra to make the breasts look larger.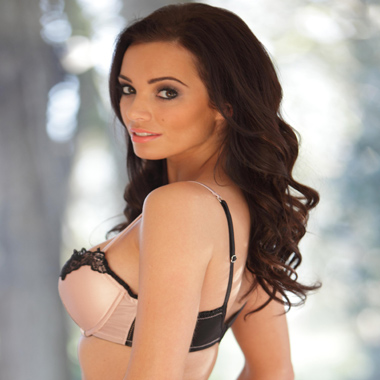 The padding is made of various materials like foam, silicone, gels and liquids that shape to your body and feel more like real breasts. In some bras, padding is removable. Most padded bras provide support but unlike push-up bras they do not lift the breasts or increase the cleavage.
Best for: Smaller breasts
Outfit: Dresses of thin fabric
20. Peephole Bra
Peephole bra has the cups that are loosely covering the breasts and has holes around the nipple. Those holes make the nipples visible and protrude through the dress.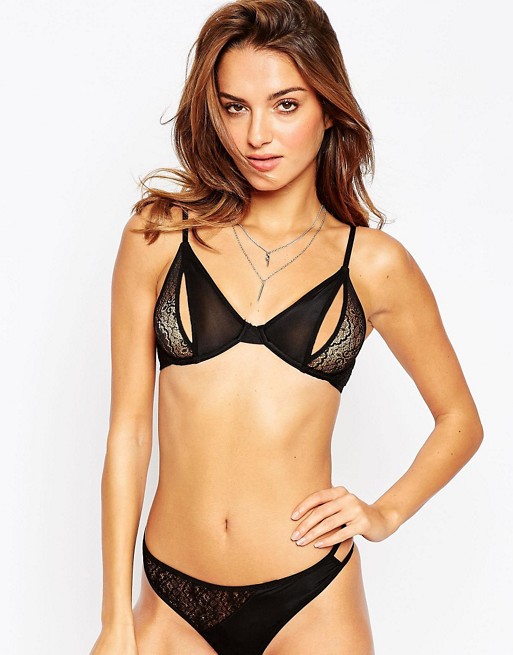 This bra ranges in exotic lingerie designs.
Best for: Sensual wear
Outfit: Sensual nightgowns
21. Plunge Bra
The plunge bra is designed as such you can wear low cut bra without your bra showing. The cups are distant from each other and join together low between the breasts with a thin centerpiece.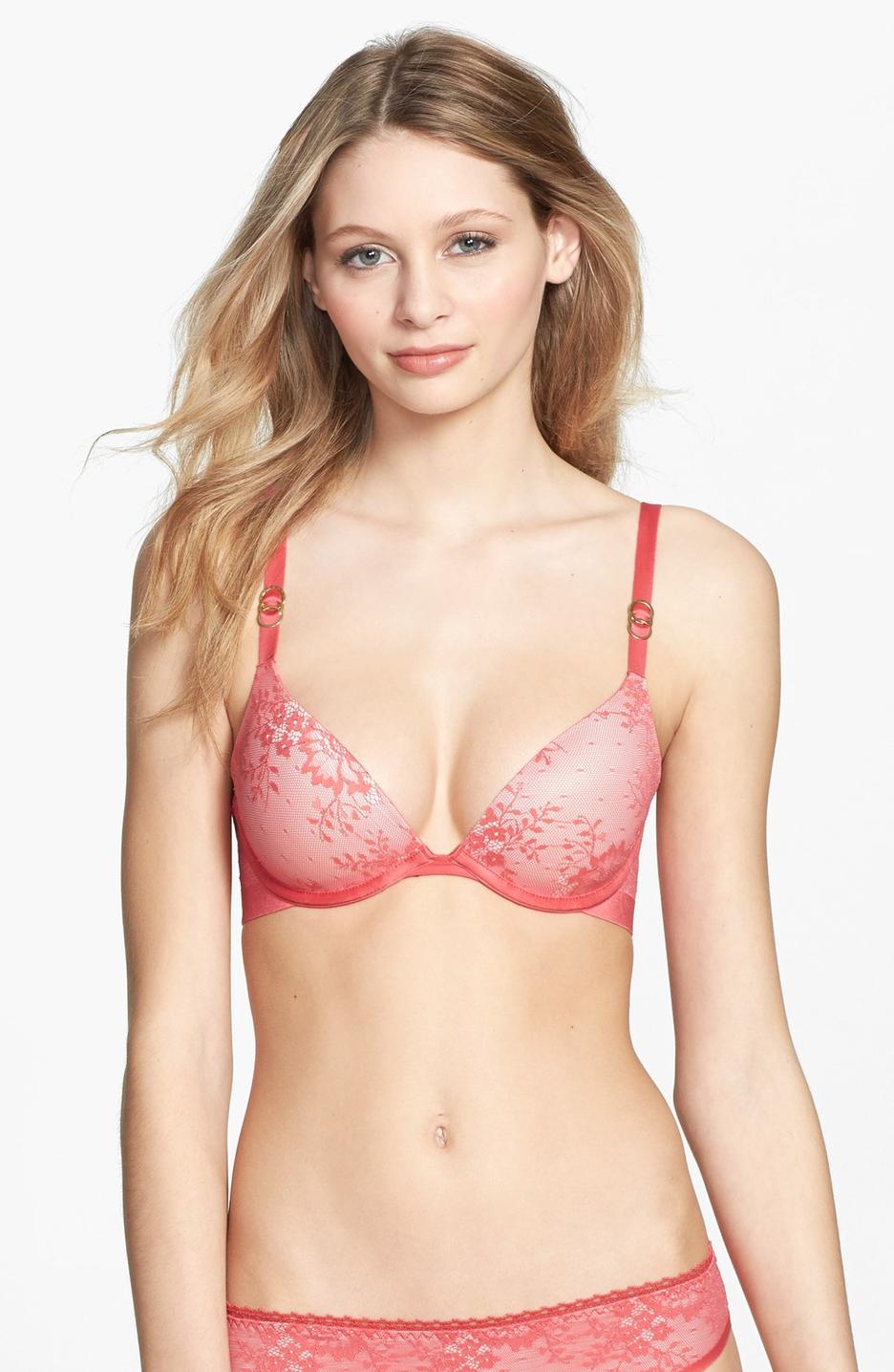 The shoulder straps are also widely set hence; you can wear any outfit with the wide necklines as well as low. Push-up plunge bra will give you fuller cleavage.
While buying plunge bra, try it, lean forward in it and check if your breasts fall or not. If your breasts fall then it is not fit for you.
Best for: well-toned busts
Outfit: Low cut dresses
22. Push-up Bra
Push-up bra like it's name, is designed to push up and uplift the breasts and increase the cleavage. The angled cups of push-up bra containing the padding push the breasts inwards and upwards and towards the center of the chest, which maximizes the cleavage.
They contain padding made of foam or rubber, sometimes gel-filled pads. The difference between padded bra and push-up bra is that padded bra just provides the breasts volume while push-up bra lifts the breasts providing more cleavage along with breasts volume.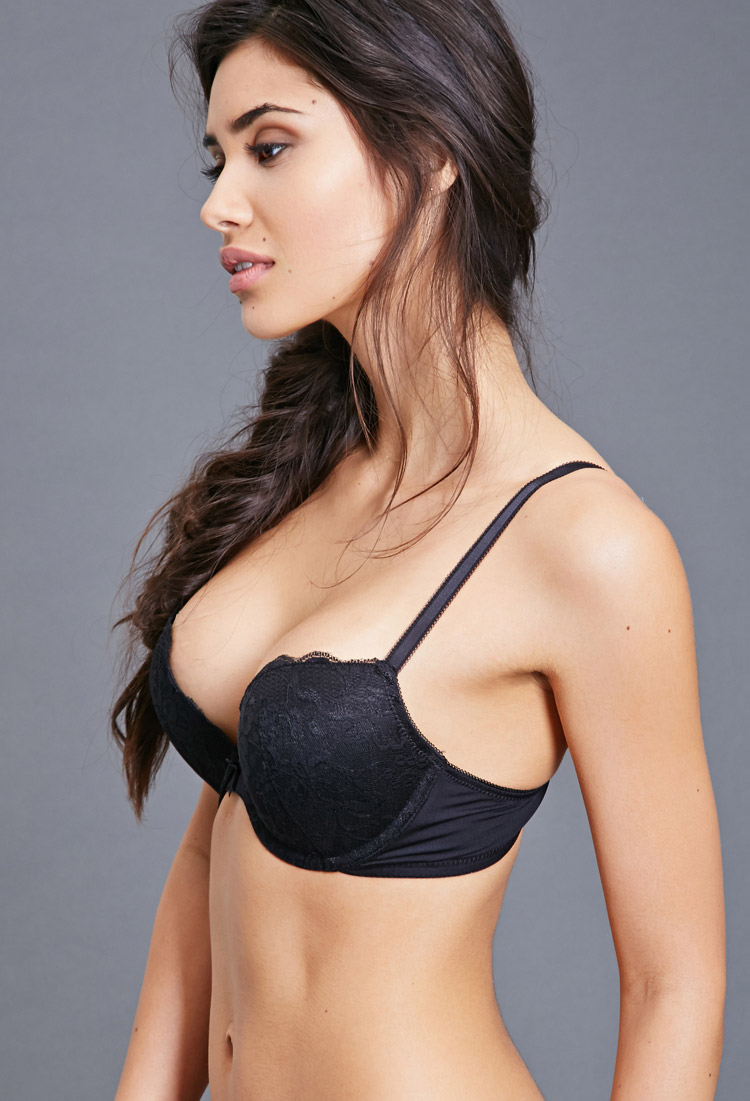 Usually, push-up bra is a demi-cup bra. Also they are like plunge bra as the cups join low between the breasts so that you can wear low cut dresses and show off your cleavage if you want.
This bra is great if you have small breasts and want to make them look bigger. The padding in the bra can make your breasts look couple cup sizes larger than they really are. Padding is built-in in some and some have removable padding.
The first push-up bra made was the Wonderbra.
Best for: Smaller and subtle breasts
Outfit: Deep necklines
23. Racerback Bra
The racerback bra is designed with the shoulder straps forming 'V' or 'T' pattern between the shoulder blades. It is perfect to wear with tank tops and other outfits, which would expose the traditional shoulder straps.
It tends to provide extra support, which is the reason, most sports bra use racerback design to improve support and reduce bounce. Another reason is it is quite secure. The straps won't fall and there is a wide range of movement through the shoulders. They make the physical activity much easier and comfortable.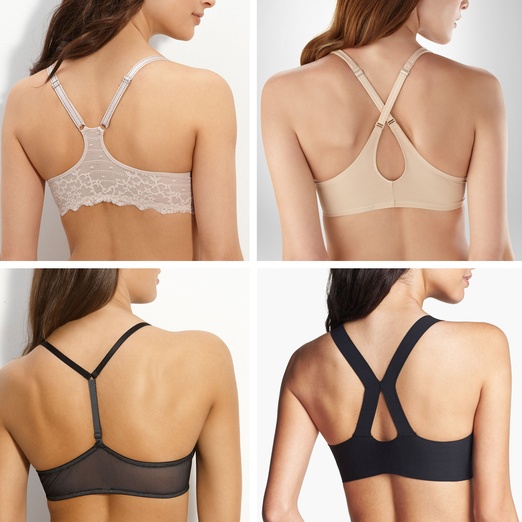 They might or might not have the fastening at the back. Sometimes they are elasticated and you put it on over your head like a camisole.
Best for: Sports women
Outfit: Tank tops, Gym wear
24. Sheer Bra
Sheer bra is a fashion bra made of translucent material, which displays nipples. It is a see-through bra designed for glamour more than support.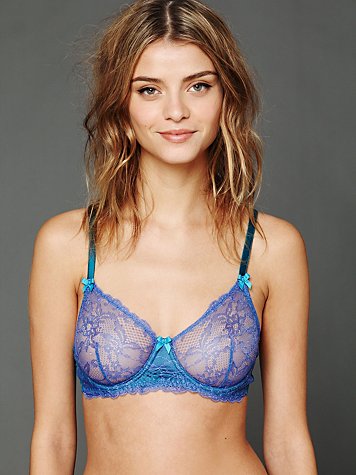 It is usually used as a part of lingerie. It is mostly made of lacy materials.
Best for: Lingerie wear
Outfit: Nightgowns
25. Shelf/Cupless Bra
Shelf bra is also called as cupless, open cup, platform cup, half cup and sometimes quarter-cup bra. It has underwires and provides minimal breast coverage. It supports only the underside of the breasts, pushing the breast upward and leaving the nipple and areola uncovered.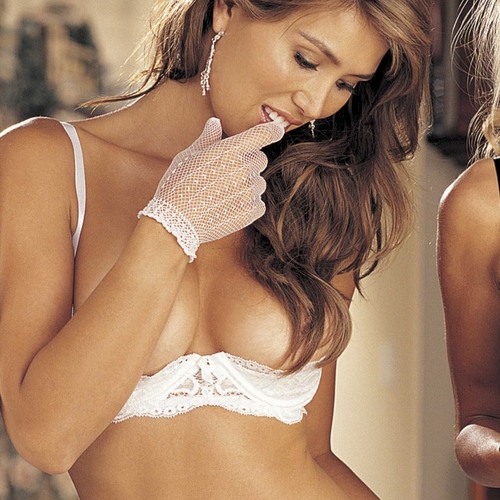 This bra is mainly just for fun and erotic purposes or when women have to go bra less. The exposed nipple can be visible underneath the outer clothing.
Best for: Bra less situations
Outfit: Sensual
26. Softcup Bra
Softcup bra is a practical design for everyday wear. It does not have underwire for the support instead the strength of the underband provides support to the bust.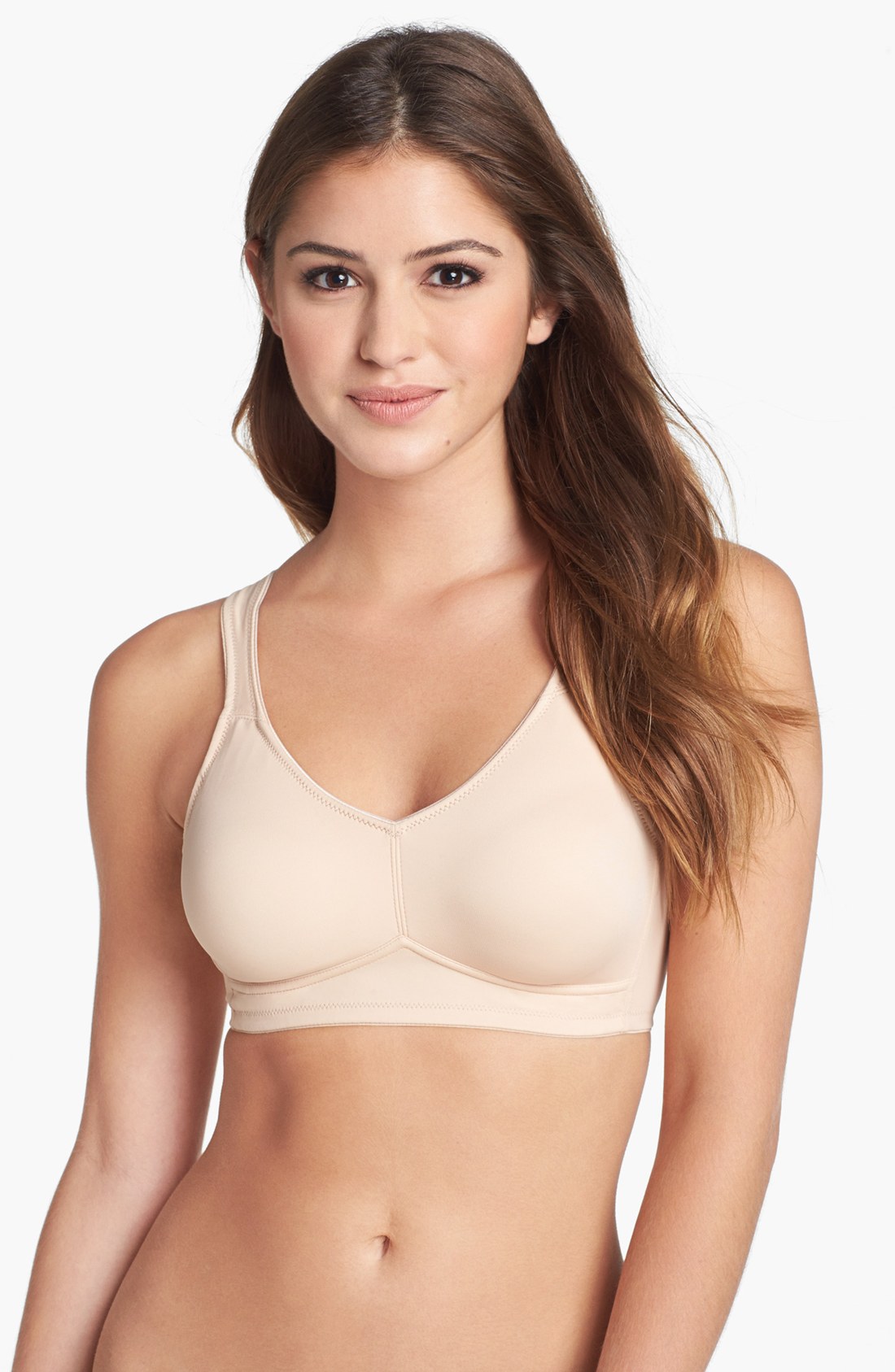 The cups are slightly padded with soft foam. Traditionally regarded as less supportive but now softcup bra provides competitive support and shaping. Using crisscross frames, inner under-cup slings and padding or lining the cup with molded or seamed material achieves this.
Best for: Daily wear
Outfit: Any outfit
27. Sports Bra
Sports bras are designed for the athletic activities providing form support and minimize breast movement during exercise. Various designs are available for different activities. Sports bra meant for yoga is comfortable and offer great movement while one for jogging is firmer to reduce bounce and breathe well to reduce sweating.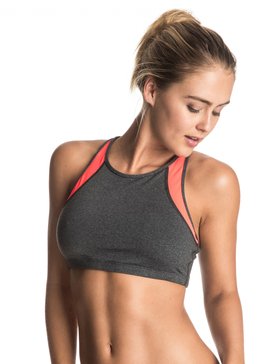 They are usually made of stretchable and absorbent fabric like Lycra and designed to draw perspiration away from the skin. Usually sports bras use racerback design as it gives shoulders good range of movement, straps won't fall down and are quite supportive.
Checkpoints:
When buying, do the bounce test. Jump up and down and side to side with it on.
Check the stretching.
Choose one with wicking fabric to draw sweat away from your body.
Check the straps.
Try various sports bras and choose one that suits you the best.
Best for: Sports women
Outfit: Tank tops, Gym wear, Sports wear
28. Strapless Bra
Like the name says, the strapless bra doesn't have straps. It relies on an extra-wide band for the support. The longer underwire encompassing more of the breasts and cups with padding, boning and shaping panels provide the necessary strength. They come in regular or longline versions, which may be called bustiers.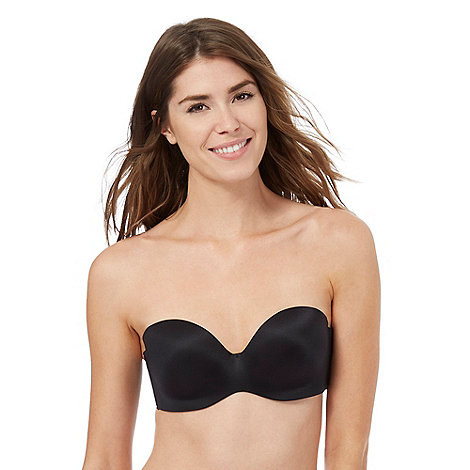 Strapless bra is designed for wearing with bare-shoulder outer garments like halter dresses or tube dresses. It may have the rubberized or silicone beading inside the top edge of cup to keep the bra attached to the breasts. Some convertible bras can be turned into strapless bras by removing the straps.
Since the band provides all the support, go down on band size and up on cup size.
Best for: Subtle and small breasts
Outfit: Halter and Tube dresses/tops
29. T-shirt Bra
T-shirt bra is designed without seams so that bra won't be visible when worn with tight t-shirt. It is also called as seamless bra.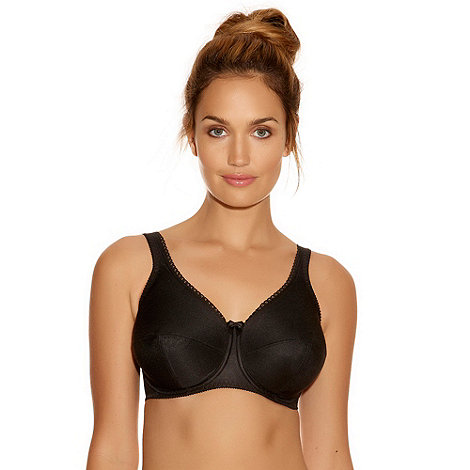 This bra has seamless, pre-formed cups containing foam and other lining, which helps define and hold the cup's shape, even when it is not worn. Since the cups are seamless, they are perfect choice to wear with anything where seams show through. The layer of foam also covers the outline of the nipple making this bra popular for the same reason.
A contoured style fits smoothly under the fitting dresses, lightweight knitted fabric or clingy tops.
Best for: Anyone
Outfit: Knitted or clingy clothing
30. Trainer Bra
The trainer bras are designed for young girls who have just begun to develop breasts. They are meant to provide support but not too tight that will affect the development of the breasts.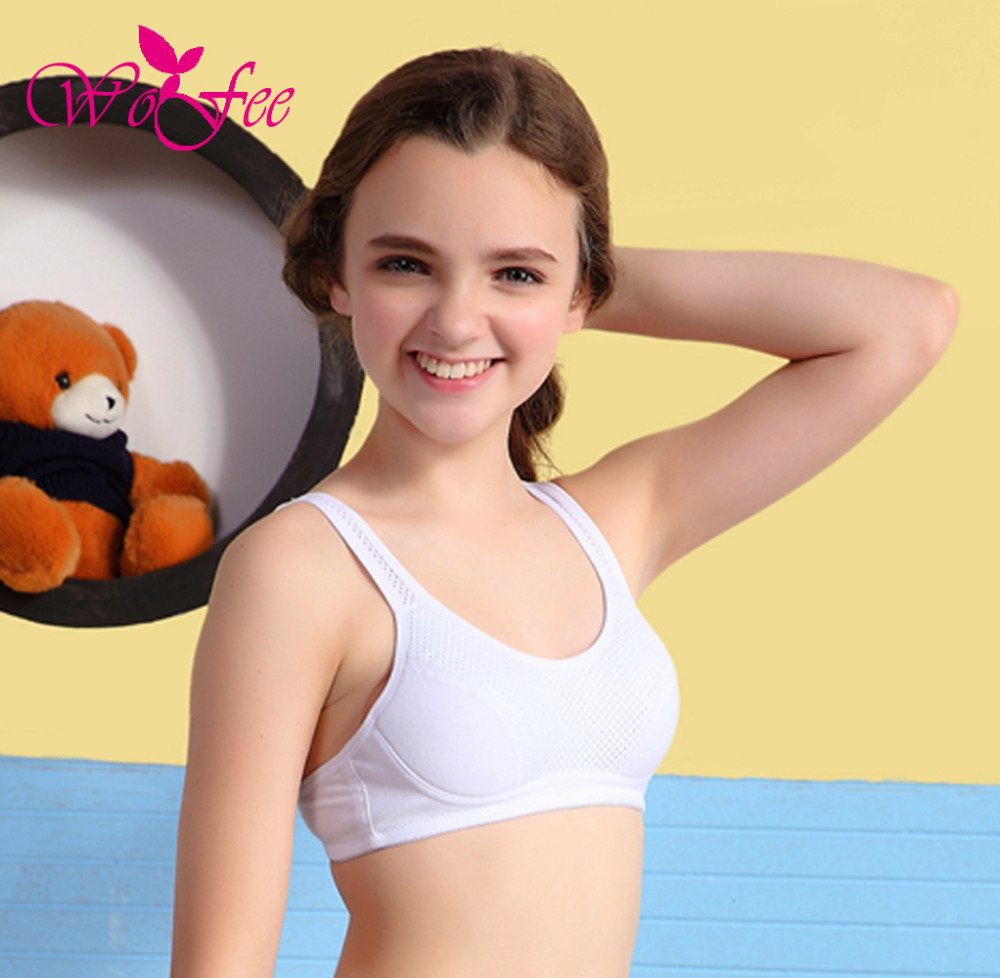 They are designed simple offering little support. Mostly they are soft-cup, lightweight and unlined design. And some are padded.
Best for: Developing breasts
Outfit: Any
31. Triangle Bra
The triangle bra got its name from its triangle shaped cups. It is very common in the bikini.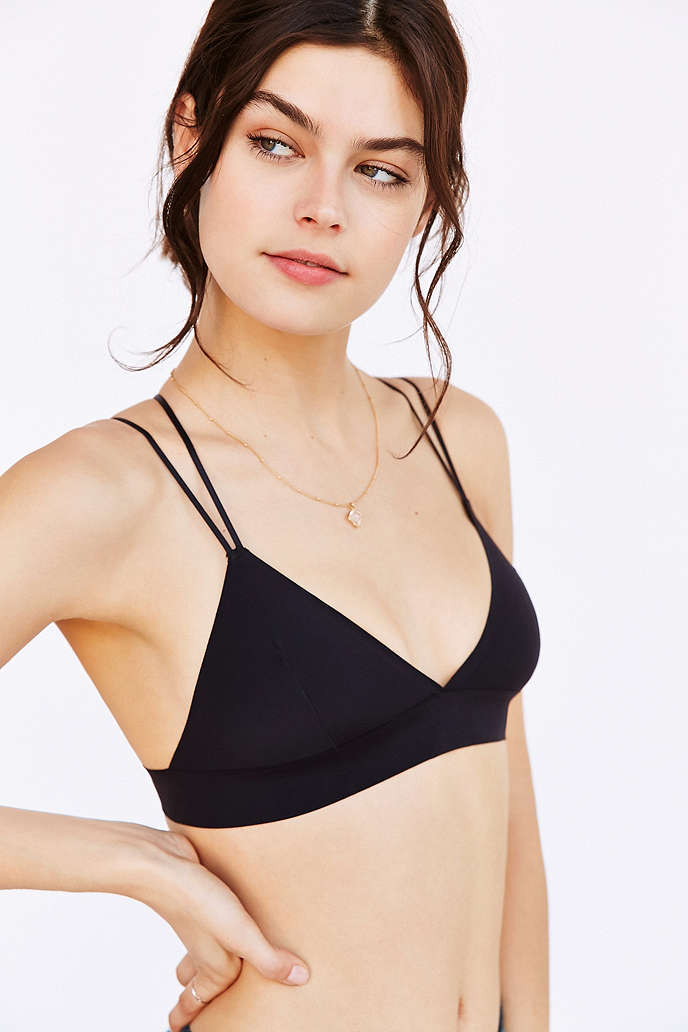 It is meant to provide the coverage and very little or no support.
Best for: Small breasts
Outfit: Bikinis, Beachwear
32. U-Plunge/Deep Plunge Bra
The U-plunge bra is the bra with lowest cut especially designed for the dresses having deep plunging necklines. It is also called deep plunge bra.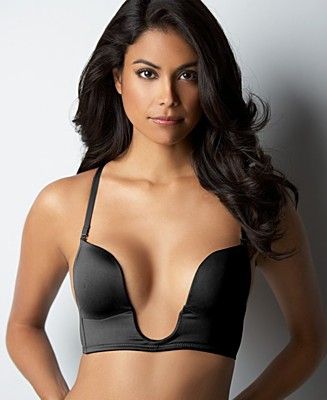 These types of bra usually have underwires and side boning to provide support. The shoulder straps are also widely set hence; you can wear any outfit with the wide necklines as well as low. You need to be extra careful of wardrobe malfunction while wearing this type of bra.
Best for: well-toned busts
Outfit: Low cut dresses
33. Underwire Bra
The underwire bra is designed to provide extra support and endurance. This design has thin, semi-circular strip of rigid material running under each cup to provide rigid support to the bust. The wire can be made of metal, plastic or resin. It is sewn into the bra fabric under each cup from central gore to under the wearer's armpit.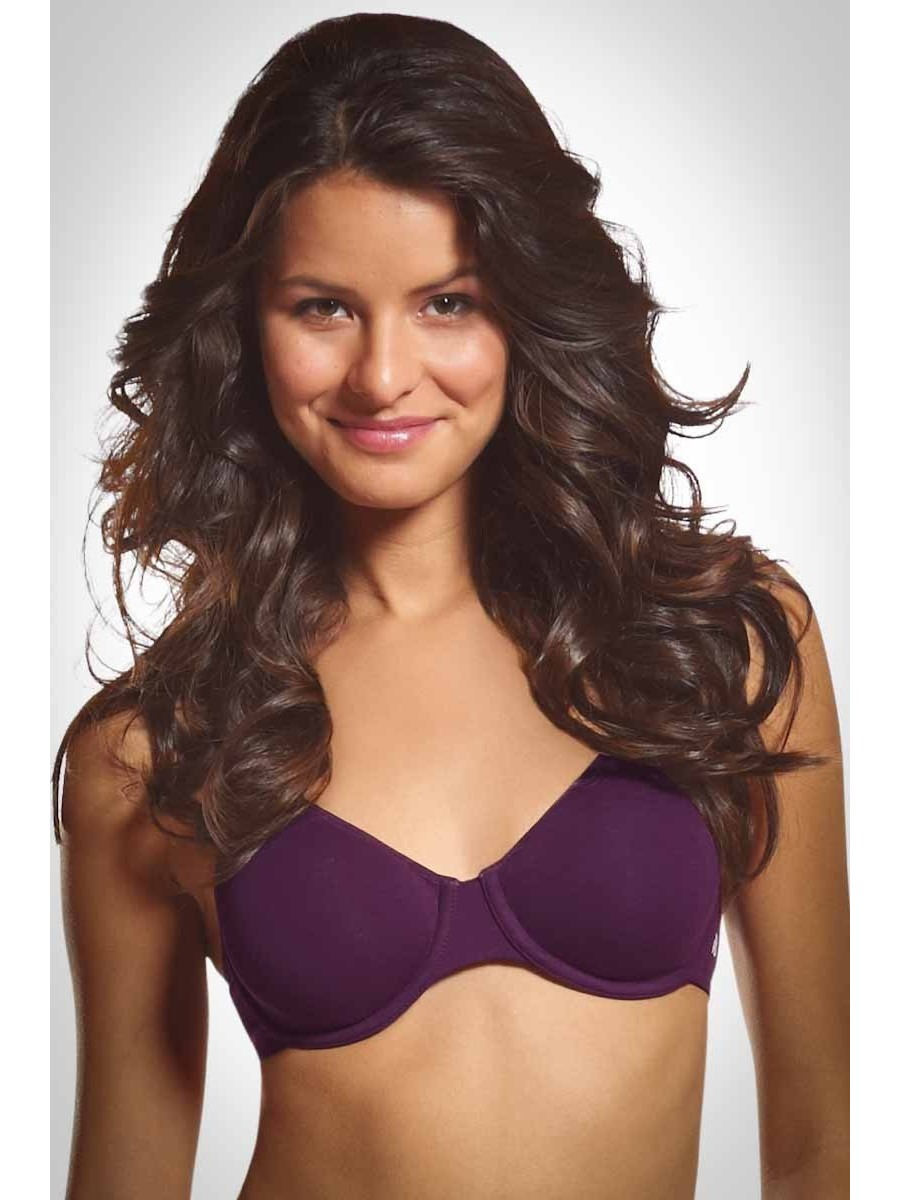 It provides structure by keeping the breasts anchored to the chest. Some find it comfortable and supportive while others find it uncomfortable. Underwire bras can be plunge, demi and full coverage styles.
Best for: Larger busts
34. Vintage Bra
Vintage bras were invented in the late 1940s and still being sold well during the 1960s. It is full support bra with the cups shape of a paraboloid of revolution with its axis perpendicular to the breast.
Best for: Larger busts
Outfit: Any
35. Water Bra
Water bra is sometimes called as liquid or gel bra. It has the water or silicone gel-filled cups, which enhances the size of the breasts.
These cups will boost the breasts by at least a cup size than the natural size. The cups are mostly seamless which is smooth and comfortable.
Best for: Smaller busts
Outfit: Any
You can check our glossary if you don't understand some terminologies mentioned above.
Thank you.