There is a lot of talk about bras versus bralettes nowadays and the debate doesn't stop there. Should you go for under-wired, padded, or not wear a bra at all? What are the different bralette types? There is a lot to think about, so let's take it to step by step.
What is the Difference between Bra and bralette?
The basic difference between bra and bralette is that bralettes are less structured and less supportive than traditional bras. Although the early bralettes were never under-wired, nowadays, some are. Traditional bras may also be padded and come in a variety of styles such as balconette, deep plunge, and so on. Bralettes aren't usually molded, but they do come in a wide range of fabrics and finishes:
They are not usually padded and are often made of more breathable fabrics than traditional bras, which are usually made of synthetic fabrics.
Bralettes are not usually under-wired. If you've ever been in that situation where you've seen the wire making its way from your breast up to your face while you're talking to the new man in your life, you can see at least one of the advantages of a bralette.
Bralettes tend to be one piece of fabric rather than several pieces stitched together. There are more designs now. Bralettes now come with racerbacks or plunge styles. And that may be another reason to choose the bralette if you can't get a bra with the right style. In contrast, bras are very much more intended to make your breasts sit in a particular position with firmer support.
Bras are intended to take what you've got and make it look better and give you more support. If you've got small breasts, bras are great at enhancing them. Bralettes give you a more natural look. You'll get more support from a bralette than wearing nothing at all. But don't imagine that digging the garden will be comfortable if you are only wearing a bralette.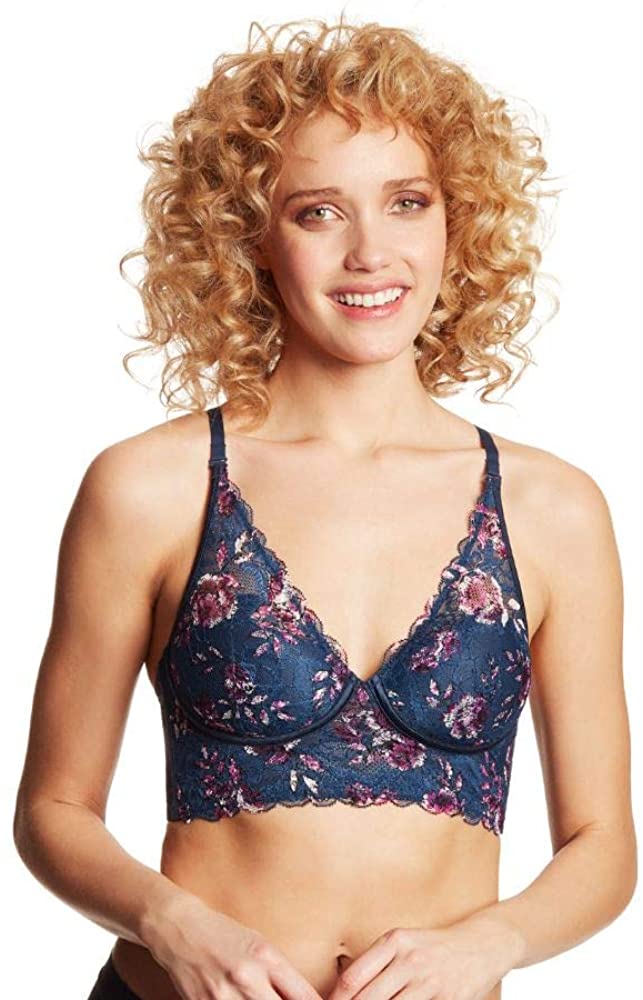 What makes a Bra a Bralette?
Bralettes are usually made of softer materials and are more lightweight. Some people say that they are more like a tank top. In most cases, you pull them on over your head and they don't have the usual hook and eye closure. That said, there are more and more styles available now and the differences between the two are becoming a little blurred.
What is the Purpose of Bralettes?
There are a few reasons that women may wear bralettes. One is comfort. Surely, we all know the relief of taking our bra off at the end of the day. Even if we are just changing into loungewear for around the house. And if you like a bit of extra support while you are sleeping, a bralette is ideal.
Another is fashion. It's somehow more acceptable to have a bralette strap or even the whole thing showing as they tend to be less formal items of clothing. In fact, in some circles, the bralette is the main focus of the outfit, but don't worry if that look is not for you.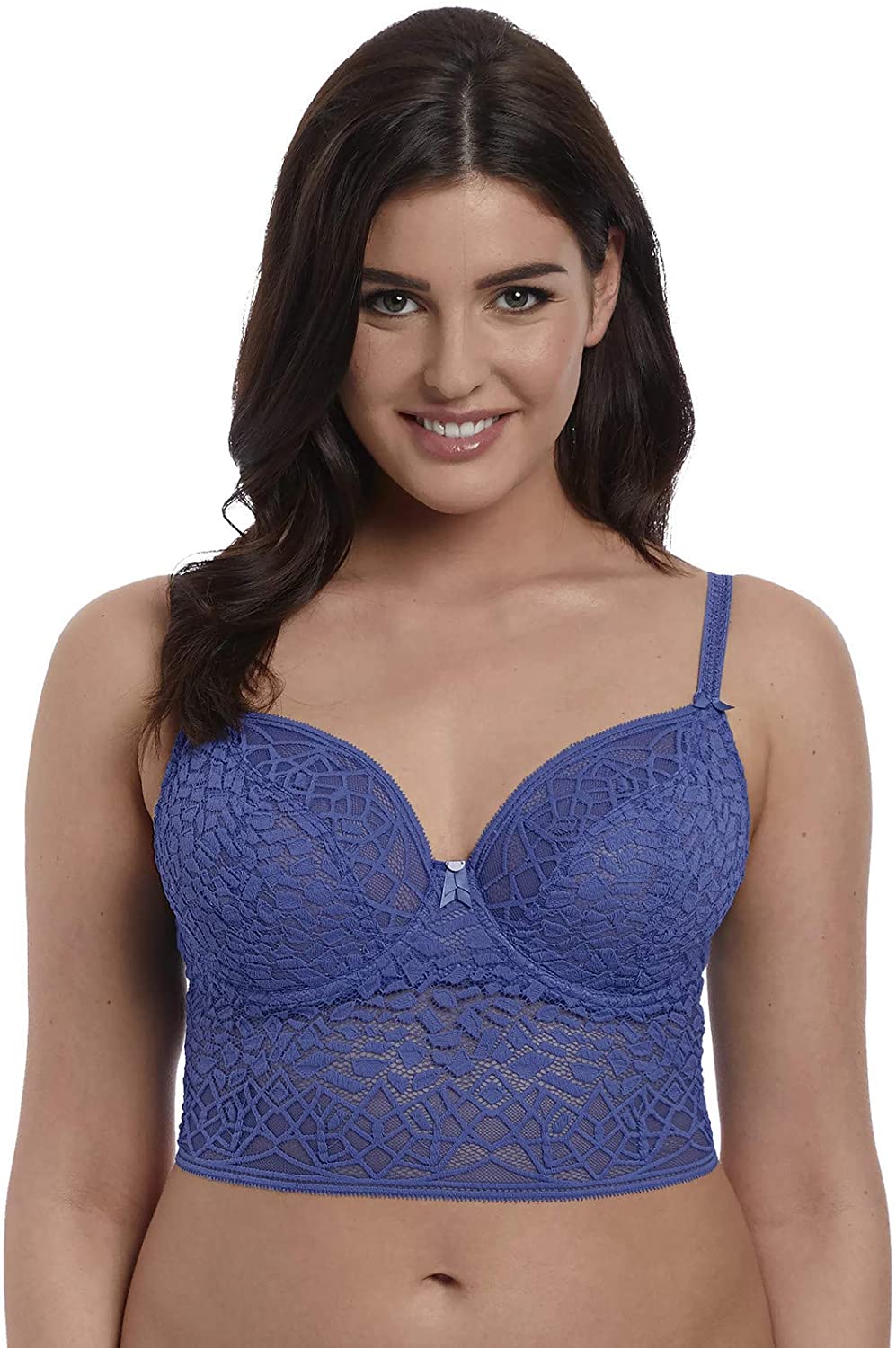 When to Wear a Bra or a Bralette?
In general terms, this is a matter of personal choice but there are some things you might want to take into account.
If you work in a very formal setting with a strict dress code, opt for a bra. It gives more coverage and you don't want your nipples on show.
Similarly, if you work somewhere cold, a bra will reduce the chances of your nipples showing.
If you work somewhere where you have to do a lot of lifting, etc., a bra is a better choice, simply because of the extra support, you will get. If your job is very physical, consider wearing a sports bra.
Similarly, if you are going to be rushing around a lot and carrying laptops, folders, etc., you might find a bra more comfortable.
You might want to wear a bra on a first date, too, you don't want to send out the wrong vibes. But if you have been dating the same person for some time, why not wear a bralette and flirt a little?
You can wear bralettes in bed for a little extra support but without anything to dig into you and wake you up.
If you are in a hot climate, bralettes can be a bit more comfortable – because of the type of fabrics they are made from, they are less likely to stick to you.
If your breasts are different sizes (which is not uncommon and perfectly natural), wearing a bra, rather than a bralette, can make them look more even.
Always wear a bra when exercising.
Also Read: 20 Bra Myths Debunked That Are Nothing But Balderdash
Do Bralettes cause Sagging?
The short answer is no. Bralettes don't cause sagging, but they may not help to prevent it either. Our breasts are made up of fatty tissue, supported by connective tissue known as Cooper's ligaments. Ligaments are tough and inelastic, so once they stretch, they are stretched. The good old law of gravity that we learned about at school, plus general aging and genetic factors will contribute to sagging, as will putting on excess weight during pregnancy. The experts say maintaining a healthy weight is one of the best things you can do to prevent sagging.
Wearing a well-fitting, supportive bra will help against the effects of gravity a bit, and help against stretching the ligaments, but particularly if you have large breasts, sagging may be one of those things you have to live with.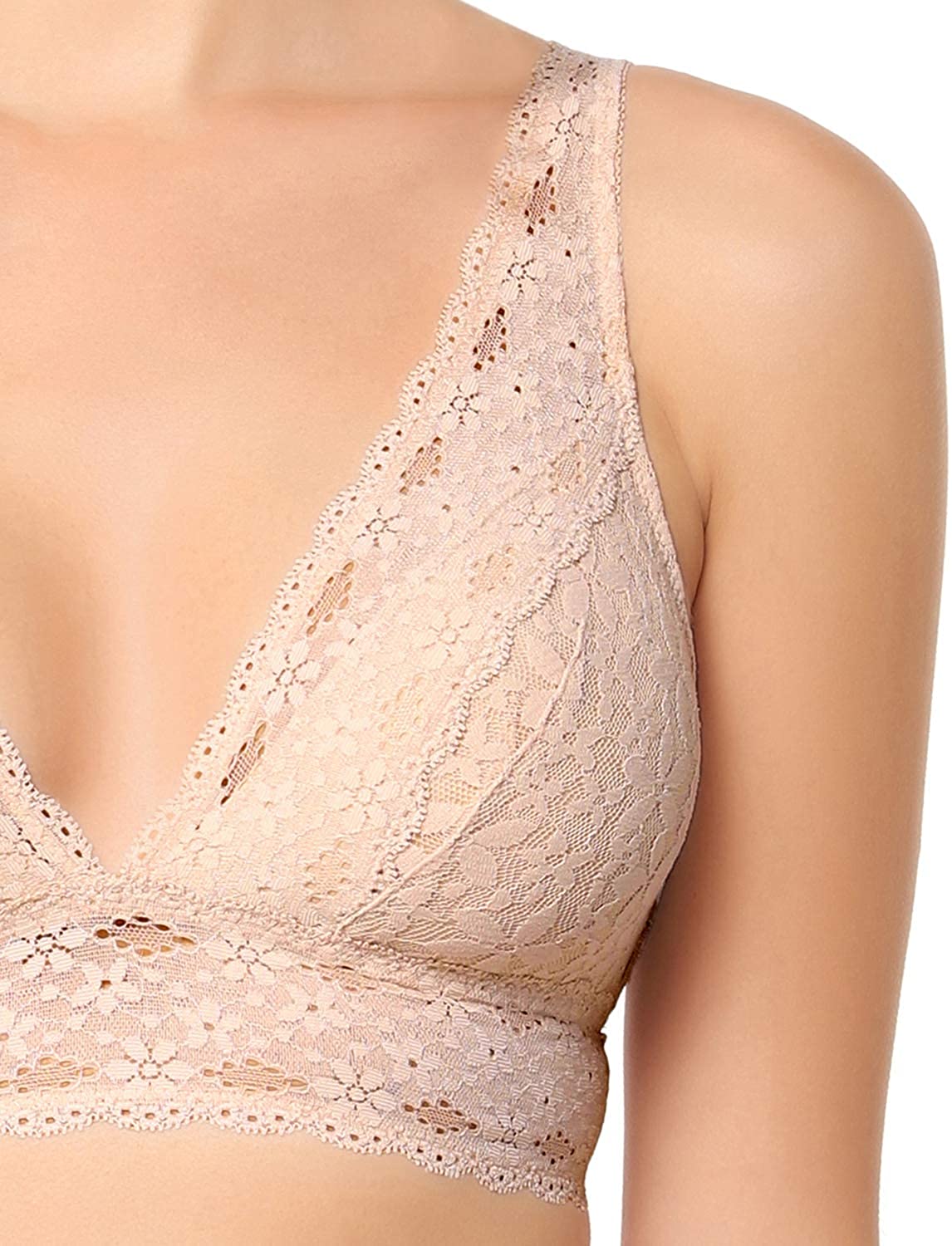 Is it okay to just wear a Bralette?
This is very much a matter of personal choice, where you are and what you are doing. If you are at home you can do what you like and if you work in a very formal office, you might be better off wearing a full coverage bra. If you are self-conscious about your breasts being on the show, perhaps bralettes are not for you, but there are so many styles and fabrics out there, you might find something that suits you.
Are Bralettes healthier than Bras?
This has to be the 50-million-dollar question, and there doesn't seem to be one catch-all answer. The truth is, it depends on so many different factors: does your bra fit properly? Does the fabric cause you any irritation? Do you sweat a lot under your bra band?
Most of us don't regularly go for bra fittings but we should – studies estimate that 80% of women are wearing the wrong size bra. According to the Institute of Osteopathy, larger breast sizes can contribute to postural changes which can cause back problems or other similar issues. (Some women stoop to try to hide the size of their breasts, for example.)
It can be a good idea to change the style of bra you wear regularly though. It's a bit like exercise, your body gets used to the same thing every day and a bit of variety does us all good. So maybe wear a bra during the day when you are working and a bralette in the evening when you are sitting watching TV.
Our breasts can be heavy so wearing a supportive bra will help to hold your boobs up and make them look good while it's being worn. If you do a lot of sport or exercise a lot, make sure you wear a good sports bra, even if you don't have large breasts. Our breasts move independently, on average, 15 centimeters in any direction when we exercise. That movement can be just from walking, let alone jogging or running. The average breast weighs half a kilogram. That's a lot of independent movement and weight tugging at those Cooper's ligaments. Don't exercise without a sports bra and as soon as it starts to lose its elasticity, buy a new one.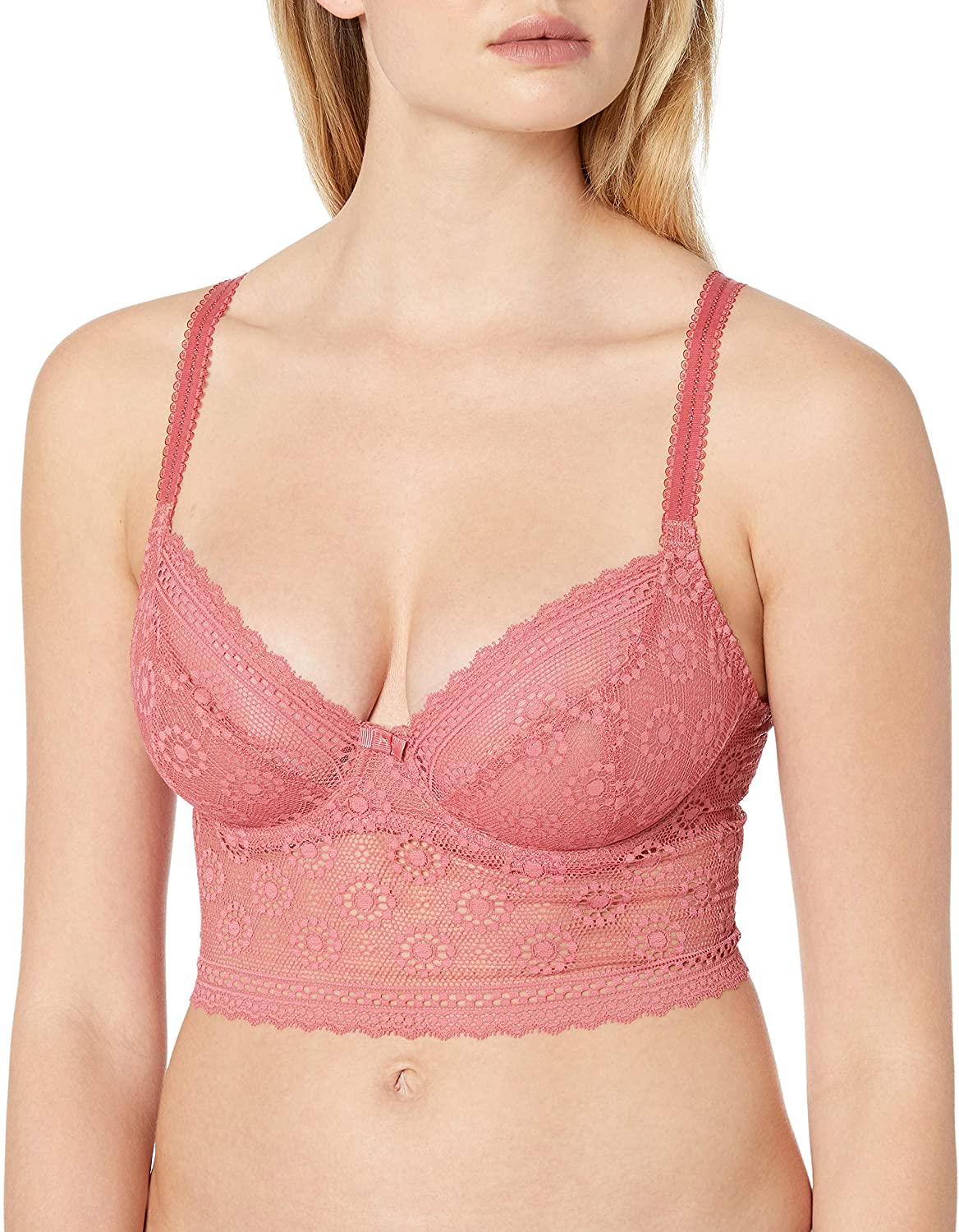 Do Bralettes make you look flat?
If you wear the right size, no. Like everything, if you get the size wrong, it will do nothing for you. It also depends on your natural shape. If all you've got is two fried eggs, you might want to think about wearing a padded bra to give you a bit more oomph. Don't think that squashing your boobs into a small bralette will make them look smaller, either. It will just look as though you've bought the wrong size.
What is a Bralette size?
Unlike conventional bras that are given a number and a letter (which, broadly speaking are the band size and the cup size), bralettes are sized in small, medium, large, etc. With a bralette, you need to measure around the widest part of your bust and around your rib cage (ie under your bust) to get the measurements that convert into the size.
Related: Bra Size Conversion
How do you know what size Bralette to buy?
Most retailers will have 'conversion' charts but the experts say it's not just about size, it's about the shape of the bralette and the shape of your breasts too. It's best to try them on before you buy if it feels comfortable and fits well, that's the size for you, but here are some bralette sizing tips:
Whether you are choosing a bra or a bralette, the under band (the bit that fits under your breasts and around your body) should fit firmly and comfortably. It should be even all around and shouldn't ride up at the back. It is a myth that a wider under band will provide more support, it's the quality of the fabric that counts.
The straps should fit comfortably too, and not cut into your skin. You should be able to slide two fingers underneath if they are correctly adjusted. They are not there to hold your boobs up; they are there to keep the bra cups in place.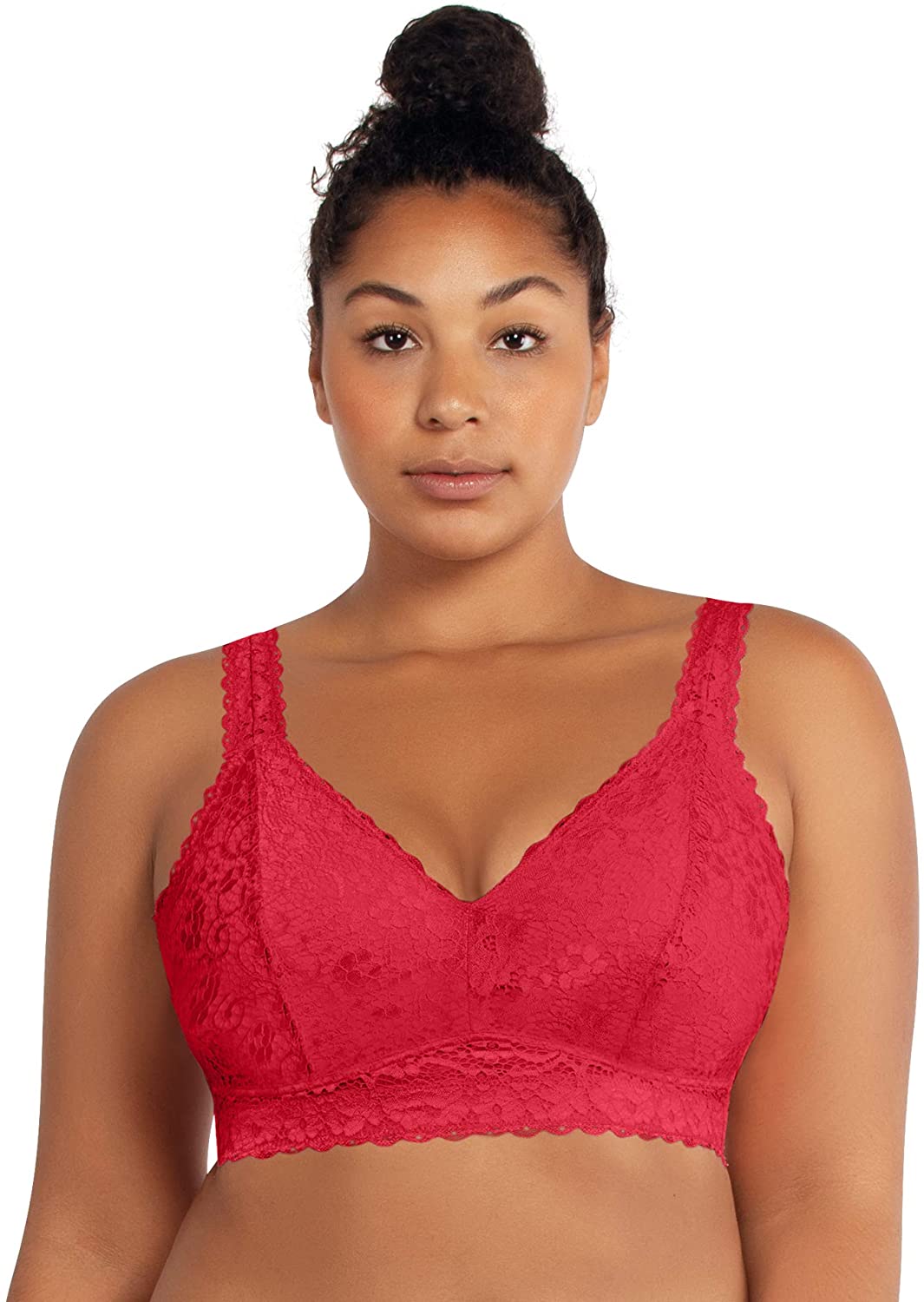 Are Bralettes good for large breasts?
Again, this is largely a matter of personal choice. If you have large breasts and like a lot of support, then a well-fitting bra is more likely to be a better choice. That said, it is all down to what makes you feel comfortable. Some bralettes come in double fabric layers, which will give a little more support. If you go to a store that specializes in underwear for the larger busted lady, you may find that they have bralettes with cups built in too.
Do you wear a Bra under a Bralette?
The simple answer to this is that it's up to you! Bralettes are designed to be worn without a bra and you will lose some of the advantages of comfort by wearing both but there are no rules and no-one is going to arrest you if you wear a bra underneath your bralette. If you are new to wearing bralettes, it could be a good way to help you get used to them.
This is one battle that can end in a truce. Ultimately, the only rules are the ones that you make for yourself (unless your workplace is very strict) so having bralettes in your underwear drawer gives you greater choice. Just remember, whichever you opt for, make sure it fits properly before you part with your cash.