Bad Bra Fitting Symptoms
Finding a perfect fit bra is big challenge, which is why most women end up wearing the ill fitting bra. It is very important to wear the correctly fit bra regarding your appearance and health. Despite of all the confusions and difficulties of finding the perfectly fit bra, Cupmysize is at your service. We are here to help you figure out the bad bra fitting symptoms and help you find the perfectly fit bra.
The poorly fitting bras will leave you uncomfortable, annoying and sometimes embarrassing. Every woman/girl has experienced such situation at least once and some more often. The ill fitting bra leads to various problems and the wrong size is the main reason.
We have listed up all the signs that will tell you that you are wearing bad fitting bra. After this you can make changes accordingly and prevent such problems in future.
DIGGING STRAPS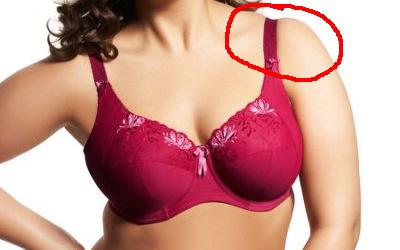 If your straps are digging in then you are wearing a wrong size bra (wrong band size). If band of your bra is too loose then your straps have to do more work which cause them to dig. Experts tell that the band is responsible for 90% of a bra's support leaving 10% for the straps. If your band does not fully support, the weight of your breasts pull down the straps causing the aching digging. Tightening the straps in hope of more support only lets your strap dig in.
Read More: Bra Glossary
FALLING STRAPS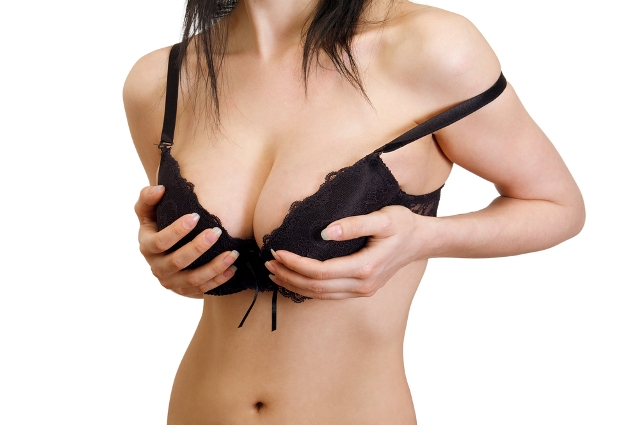 Straps become loose and fall off the shoulders sometimes, which is really irritating. One time you tighten the straps and the falling stops whereas other time, no matter how much you tighten, it keeps falling. Even the straps are snug on your shoulders but they keep falling then that particular bra size is definitely not yours. If the strap hasn't been adjusted for your height then your strap might not stay on your shoulders.
OVERFLOWING BREASTS
When you are wearing the cup size too small for you, your breasts are spill over the cups. Those are called overflowing breasts or quad boobs or double boob in the bra fitting business. If the cup size is too small or the style does not suit the breast type then the result is overflowing breasts.
LOOSE/WRINKLY CUPS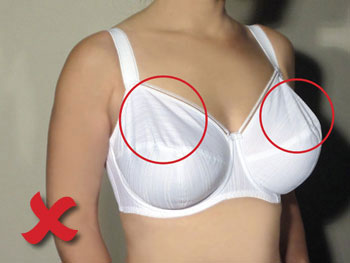 If you are wearing cup larger than your actual size, the result is loose or wrinkly cups. This bad bra fit leaves spaces in the cups of your bra. Or maybe the style is not just meant for your breasts type. Your breasts should not spill over the cups; also they shouldn't leave much space within the cups.
SIDE BOOBS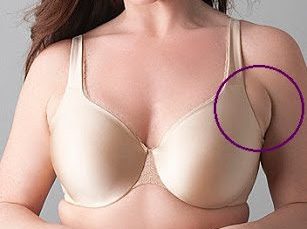 Side boobs or the armpit boobs are like the overflowing boobs but from the sides. When your bra (cup size) is small for you, your breast tissue sometimes comes out of the side of the bra. Muscles under your armpit bulge out giving you the unattractive look. You cannot be okay with this bad bra fitting symptom.
ESCAPEES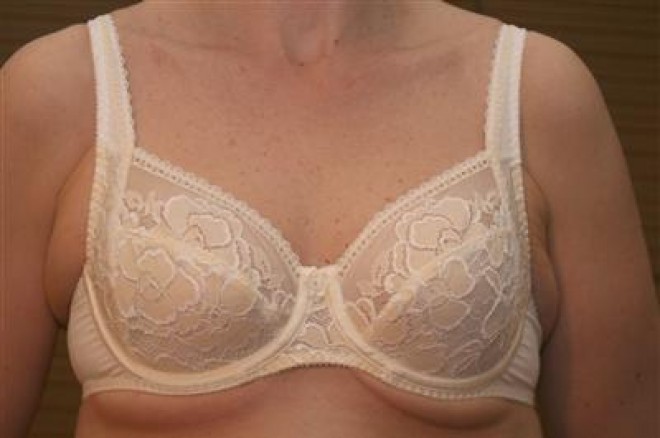 Another sign of bad bra fitting is the escapee. Whenever you are taking your arms up to reach or grab something, your bra also slides upwards and your breast slips underneath the band. This happens because you are not wearing the correct fit bra.
Also Read: 15 Motivational Posters for Women: Wear A Bra That Fits
POKING UNDERWIRE
Poking underwires is another bad bra fitting symptoms. If you are wearing the correct size underwire bra, then they can be comfortable. But the wrong size can result in poking and hurting underwire, some even causes bruises. Mostly the cup size smaller than the breasts can cause such pain and bruises.
Also Read: Different Types of Bra
CENTER PANEL NOT LYING FLAT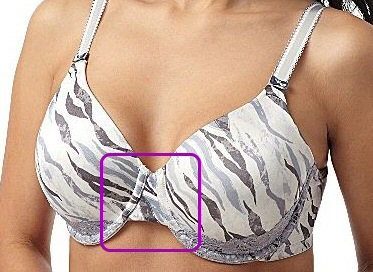 The center panel/gore/centerpiece is the piece of fabric, which connects the cups of a bra at the center front. This should lie flat in between your breasts, resting against your sternum. If your center panel is not in the middle of the breasts and away from them; then the breasts will put pressure on the wires causing them to bend, break or poke. The reason can be too large band or to small cup or the close-set breasts.
BAND RIDING UP YOUR BACK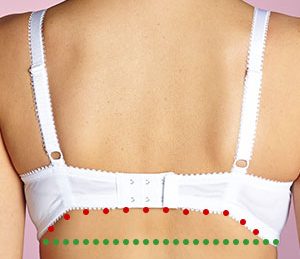 Your bra band should never ride up your back. The band should always be parallel to the floor. If your bra is riding up your back then it's a bad bra fitting symptom, which means you are wearing large band size. A band's job is to provide 80% support to your breasts and if the band is not snug the weight of your breasts will start pulling up the bra from behind. The back and front of the bra should always be on the same level.
TIGHT/LOOSE BAND

The band of your bra should be snug but not too tight and not too loose. When you pull your band away from the body there should be enough space to fit a finger or two but not more than that. Too tight band can result the back lumps which nobody wants. Too loose band doesn't stay in right place. This kind of bad bra fitting symptoms can be checked with the cup and band sizes.
UNWANTED MARKS/BRUISES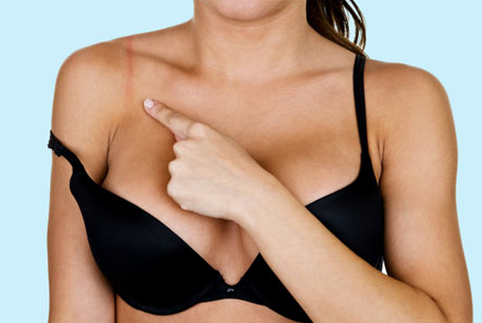 As mentioned above the underwire of wrong size bra can cause pain and bruises. But it is not just underwire that can cause such pain and bruises; band and straps of wrong size bra can result the same. If the band and straps are too tight and digging, they leave red marks and irritation. Some may have sensitive skin and certain fabric might cause allergic reactions. If any such things happen to you, you should know they are bad bra fitting symptoms and it's time to change your bra size and style.
So, now you know the bad bra fitting symptoms of your bra. If you are facing any of the above problems and feel uncomfortable wearing your bra, think carefully. The wrong size does not provide enough support your breasts need.  Also the wrong size can result in various health problems like shoulder and neck pain, headaches and nerve problems.
You can kick away all those problems by simply wearing the correctly fitting bra. Remember these bad bra fitting symptoms when trying a bra next time.